Hekima Review No. 63 Dec 2021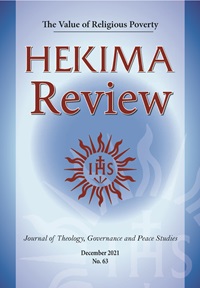 The year 2021/2022 offers a unique opportunity to commemorate the 500th anniversary of the Conversion of St Ignatius to a radical following of Christ. Injured
in battle at Pamplona on 12th May 1521, Ignatius lay convalescing in his family
home in Loyola reading the Life of Christ and the Lives of the Saints through much of
July and August. By September, those around him began to suspect that 'he wanted
to make a very great change' in his life, having seen several outward changes. Among
those changes was his growing appreciation of the value of religious poverty, a value
which was to characterise the life of the religious order he founded, the Jesuits.
Full Issue