Hekima Review No. 66 May 2023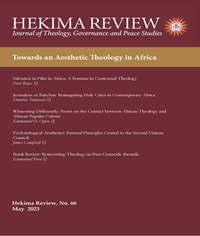 In his literary classic What Is Not Sacred, Laurenti Magesa alludes
to a triadic empirical-transcendental-sacramental constituent of
African spirituality. This manière d'être resonates with the biblical
claim (Gen 1:31) that everything created is good. However, human
relation with creation does not always guarantee sacramental and
transcendental experiences. How then should creation be appropriately
admired, understood, and embraced without tragic consequences? An
aesthetic assessment of what is (not) sacred deserves due investigation.
Full Issue